Palestinian 'freedom riders' board Israeli buses in protest
Drawing what they say are parallels between Israeli policies in the West Bank and the laws in the Jim Crow American South, Palestinian activists emulating the 'freedom riders' of 1961 attempted to ride into Jerusalem on an Israeli bus today.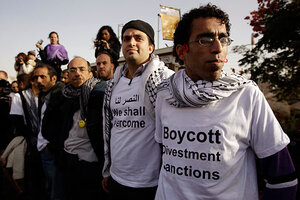 Ammar Awad/Reuters
Kokhav Ya'akov and Hizma Checkpoint, West Bank
Decked-out in T-shirts bearing slogans such as "dignity," "freedom," and "justice," and wearing the symbolic black and white Palestinian kaffiyeh scarves, six Palestinian activists waited at a bus stop this afternoon with a group of Israeli settlers.
The group planned to board an Israeli bus just outside the Israeli settlement of Kokhav Ya'akov, mimicking the African-American "freedom riders" who rode interstate buses through the American South to protest against segregation 50 years ago. While Palestinians are not explicitly barred from riding the Israeli buses, they enter parts of the West Bank and Israel that most Palestinians cannot enter.
"Under Israeli law we are forbidden to visit Jerusalem. It's a racist law like the Jim Crow laws and the apartheid laws in South Africa," says Bassal Araj, a 27-year-old pharmacist whose family is originally from a small village near Jerusalem. "We want to show the world that this is not a country of democracy. It is a country of apartheid and injustice."
Also dubbing themselves the "freedom riders," the activists hoped to highlight what they say are Israel's policies of occupation and segregation, similar to those imposed on African-Americans before the civil rights movement upended the infamous Jim Crow laws. The bus companies Egged and Veolia carry those living in Israeli settlements in the West Bank into Israel, stopping primarily in locations that Palestinians are not allowed to access.
The activists say the buses are merely a symbol of a wider prohibition: the ban on West Bank Palestinians entering Jerusalem.
"There are about 2 million Palestinians in the West Bank that are not allowed to enter East Jerusalem and Israel except with a special permission," says Sari Bashi, director of Gisha, an Israeli rights organization focused on Palestinian freedom of movement in the West Bank and Gaza.
---