Egypt protests: Tahrir Square deaths trigger cabinet's resignation
At least 24 have been killed in fresh Tahrir Square protests against the military junta. The cabinet resigned today, but many say the standoff can be ended only by significant concessions from the military.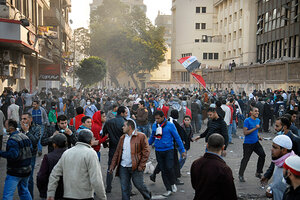 Mohammed Abu Zaid/AP
With Egypt's first post-Mubarak elections just a week away, a formidable protest movement has triggered the resignation of the country's cabinet. As clashes between security forces and protesters demanding an end to military rule entered a third day today, the toll rose to at least 24 dead and more than 1,000 wounded. The cabinet resignation is unlikely to placate protesters, who demand the end of military rule.
The atmosphere and determination of the protest movement, anchored in Cairo's Tahrir Square, has become reminiscent of the 18-day uprising that toppled Hosni Mubarak in February. Protesters are shouting the same chants, simply replacing Mubarak's name with that of Egypt's de facto military ruler, Field Marshal Mohamed Hussein Tantawi, and vow to stay put until the military junta hands power over to a civilian government.
The forces demanding action from SCAF come from across the political spectrum, making it unlikely that the council will be able to end the standoff without making considerable concessions.
"The SCAF has lost legitimacy because of their poor performance," says Ibrahim El Houdaiby, an analyst and researcher. "The only question is how to hand over power promptly, safely, democratically."
The political chaos in Cairo mirrored the physical chaos on the streets. In mid-evening Al Jazeera reported that the Supreme Council of the Armed Forces (SCAF) had accepted the cabinet resignation. At around the same time, Reuters reported that the resignations had not been accepted. The military has looked increasingly overtaken by the fast-moving political events. The killing of protesters on Saturday poured gasoline on the situation, and the generals may be wary of making another dangerous mistake.
---