Urgency grows in divided Libya, says Jibril
Libya named a new cabinet yesterday designed to win broad support and quiet tribal and regional rivalries. But it may not address issues raised by senior Libyan leader Mahmoud Jibril in a recent interview.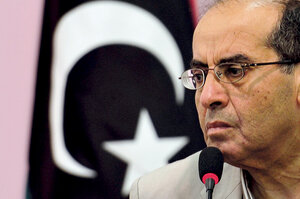 Esam Al-Fetori/Reuters
This should be Mahmoud Jibril's moment of triumph.
As prime minister of Libya's National Transitional Council (NTC), he spent most of the past year traveling the world and lining up financial and military support for the rebel effort to oust Muammar Qaddafi.
Yet just a month after Mr. Qaddafi was killed and the NTC declared liberation, Mr. Jibril is worried. Very worried. In a press briefing and at Harvard University's Arab Weekend in mid-November he used the word "scary" at least five times to describe the outlook for Libya, and said that the country could slip into the sort of instability that has racked Iraq since the 2003 US-led invasion toppled Saddam Hussein.
The key problem in Libya is that while the NTC is officially in control, it is essentially a self-appointed body that has yet to establish legitimacy across the diverse, oil-rich nation.
There were signs of the problem today in Tripoli. Yesterday, interim Prime Minister Abdurrahim el-Keib – appointed after Jibril stepped down last month – announced a cabinet designed to take into account tribal and geographic divisions within Libya. Militia commanders who fought Qaddafi were given posts, as were representatives from large tribes. The oil and finance posts went to two men who have long occupied senior management positions in the country's oil industry.
But apparently there wasn't enough cake to go around. Protesters from two Benghazi-based tribes, in the east of the country, demanded spots for their leaders in Tripoli today. In the Nafusa mountains, members of the Amazigh, or Berber, minority, said they were cutting ties with the transitional council because of insufficient representation. The Berbers were second-class citizens in Qaddafi's Libya – their language outlawed – and they contributed some of the most committed and best-organized militias to the war to drive him from power.
---