Egypt protesters not impressed with new PM
The appointment of a new prime minister by Egypt's military rulers did little to satisfy protesters, who continued to throng Tahrir Square three days before scheduled elections.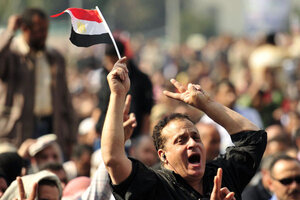 Esam Al-Fetori/Reuters
Protesters waved flags above Cairo's Tahrir Square Friday demanding that Egypt's Supreme Council of the Armed Forces (SCAF) step down – a scene surprisingly similar to the nation's February revolution.
"This is a replica of the 18 days that led to the fall of Hosni Mubarak, but this time we want to topple SCAF," says socialist activist Gigi Ibrahim while Tweeting from Tahrir Square, now littered with tents put up by people staging a sit-in.
Men and women from across Egypt's vast ideological spectrum converged on the square. Children wearing face paint in the colors of the Egyptian flag contributed to the protests, chanting, "Down with the military council!" Others were there to honor people who were killed in recent clashes.
Since last Saturday, streets leading to Tahrir have been frontlines between security forces and demonstrators that left dozens dead and thousands wounded. A truce announced on Thursday quelled the violence. Egypt's military rulers have insisted Parliamentary elections, scheduled to begin Monday, will go forward.
"Since the time of the pharaohs, we have not been able to choose our leaders and now we have the chance," said twenty-five year-old Islam Adl, who joined the protest Friday with his friends. "We're not going to leave because we are dying, and have already died for that chance."
Power grab?
SCAF took control of governing Egypt when Hosni Mubarak stepped down on February 11. While the ruling interim council initially vowed they would ensure a swift transition to democracy, some believe they are attempting to hold more permanent power.
SCAF denies the claim. "We're not intending to stay in power … This is not a gift, it's actually a huge responsibility, an unfavorable responsibility," Maj. General Mukhtar El Mallah said in a press conference Thursday.
---