Egyptians cast vote of confidence for military-run elections
The high turnout in Egypt elections comes after a week of clashes in Tahrir Square and elsewhere that left more than 40 dead and intensified calls for the military to step down.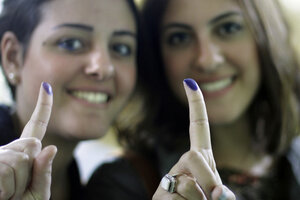 Amr Nabil/AP
Egyptians flooded the polls today to reap what many considered the fruit of their uprising: the first truly free elections not only since the fall of former President Hosni Mubarak, but for the past 60 years.
The high turnout seemed to be an expression of confidence in the electoral process overseen by Egypt's military rulers, despite violence and massive protests against military rule last week in Tahrir Square and elsewhere in Egypt, which had threatened to derail the vote.
"These incidents encouraged us to come and vote so we can help this country to get back to work and progress, and to have a parliament that represents us instead of these everlasting demonstrations," says Abdel Hakim Mahmoud Abdel Hakim, a merchant for leather products.
As he stood in line in a downtown Cairo polling station, he said those in Tahrir represent only 5 percent of Egyptians. "There's a difference between the revolution and talking, talking, talking, all the time. We made the revolution to get rid of an old regime … but we're still talking. So when are we going to get to work?"
Despite worries that recent violence and protests would undermine the vote, the lines of eager voters were largely orderly as they stretched around the block at polling stations across Cairo. The scene stood in stark contrast to past elections, when few participated in a process that was often rigged from the start, although voters today may have been motivated in part by the government's threat to impose an $85 fine on any registered voters who did not vote.
---