For many Egyptian voters, finally an election that matters
Today's parliamentary elections in Egypt saw a high turnout. Some voters confessed they didn't really know the candidates, but were excited to participate nonetheless.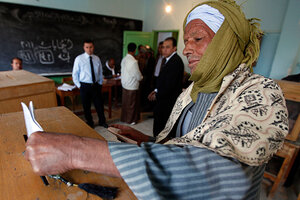 Khalil Hamra/AP
Defying skeptics and a week of revolutionary tumult, Egyptian voters came out in such high numbers today that polling station hours have been extended to 9 p.m. local time.
While subsequent rounds of the parliamentary election remain to be contested over coming months, the high turnout in this first round is seen by many as a vote of confidence in the electoral process despite violent clashes last week in Tahrir Square and elsewhere that left dozens dead. Still, election observers reported significant violations.
Today's vote comes at a critical time for Egypt, whose transition from autocratic rule to a hoped-for democracy has been less than smooth. Jubilation at the fall of former president Hosni Mubarak gave way to a realization that the military council that assumed power was replicating many of his repressive policies, and delaying the timeline for transition to civilian rule.
After the military recently made moves to secure broad powers and ensure it was not accountable to civilian authorities, a reenergized protest movement came back to Tahrir Square to demand a quicker transition to civilian rule. When security forces killed more than 40 people in clashes with protesters, more Egyptians flooded the square and demanded that the military transfer power to a civilian government immediately.
Protesters have continued to occupy Tahrir Square since last week, but their numbers were low at midday Monday. Tents were sprawled across the square, where hundreds gathered to demand that the military council step down. Many in the square were boycotting the elections.
---