Egyptian elections stir disquiet in Israel
The Arab Spring could open the door for Islamists – as seen in Egypt elections – and threaten Israel, Prime Minister Benjamin Netanyahu has warned.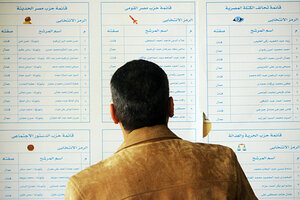 Ahmed Ali/AP
With Islamists poised to make a strong showing in Egypt's elections, months of uncertainty in Israel about the future of its 32-year partnership with Egypt are coming to a head.
Last week's clashes in Tahrir Square underscored deep public anger with Egypt's military rulers, who have backed the cold peace over the objection of Egyptians for more than three decades. Now, with growing public pressure in Egypt for a quick transition to civilian rule, and the possibility that Islamists led by the Muslim Brotherhood will dominate the new parliament, Israel is facing the prospect of a much less reliable neighbor.
In addition, the anticipated victory by the Muslim Brotherhood and other Islamist parties could boost political Islam in neighboring Jordan and the Palestinian territories.
"Egypt will not be the same country for Israel, just as the whole region is not the same as we have experienced since the Arab League was established,'' says Eli Shaked, a former Israeli ambassador to Egypt. "The assumption is that it is going to be a more radical Islamist Middle East."
Arab 'spring'?
Israeli Prime Minister Benjamin Netanyahu – who has sought to frame the Arab Spring as more of a threat than a opportunity – sees vindication in the recent turmoil.
---