Hurt by war in Iraq, a Baghdad museum reemerges
A new exhibit opened this month at the Iraqi Museum, providing one more sign that the worst horrors of the war in Iraq are receding and the country is settling into a new normal.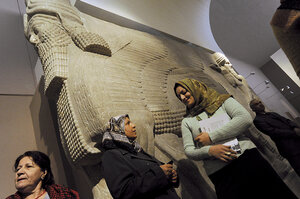 Scott Peterson/The Christian Science Monitor/Getty Images
With a snip of red ribbon, a new exhibit opened Nov. 17 at the Iraqi Museum, providing one more sign that Iraq is leaving behind the worst horrors of war and creating a new normal.
"You know what we have been through, and it was very dangerous," says Shaimaa, an archaeologist who has worked at the museum since 1999. "So many things are happening that convince us things are changing for the better."
Among them is the reemergence of her beloved museum, after being devastated by looting early in the war.
"We were heartbroken – it's like someone takes your heart, or takes one of your children. Any human would feel this way," says Shaimaa, who would only give her first name. "But we are optimistic people ... we have turned back, with so much help." Indeed, the transformation at the museum – where 15,400 priceless artifacts were carted away by looters soon after US forces entered Baghdad in 2003 – shows a determined optimism, in a nation where pessimism has become ingrained.
As US forces prepare to fully withdraw from Iraq in the coming weeks – after toppling Saddam Hussein and getting locked into nearly nine years of occupation, insurgency, and sectarian civil war that cost 4,500 American lives and almost certainly hundreds of thousands of Iraqi ones – even small events are taking on unexpected significance.
Abd al-Zahra al-Talakani, of the Ministry of Tourism and Antiquities, notes a burst of cultural events such as music, stage, and drama productions.
---