As EU tightens the screws, Iran looks toward China (VIDEO)
China and Russia could gain significant leverage over Iran as mounting EU sanctions cause it to begin looking for business elsewhere.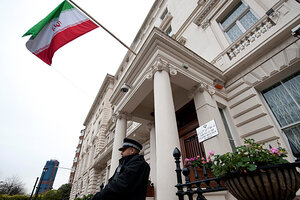 Ki Price/Reuters
The Iranian government narrowly escaped a European ban on its oil exports today, as France failed to garner enough support for the unprecedented measure. But there is still a latent fear in Tehran that the sharpening decline in European relations – accelerated by this week's attack on the British Embassy in Iran – will lead to a disadvantageous rise in Russian and Chinese influence over Iran's economy.
While the European Union failed to agree to an oil ban today, they did impose sanctions on 180 individuals and companies affiliated with the Iranian regime, putting the Islamic Republic in an increasingly tight spot.
"The government as a whole and the business community are worried about the deterioration of relations with Europe," says a Tehran-based analyst. "Iran's relationships with the Russians and Chinese will become lopsided because they'll expect preferential treatment from Tehran in order to continue the relationship. As a consequence, it will give the Russians and the Chinese a lot of leverage over the Iranians, which will translate into economic concessions – and that is problematic."
Oil official: We may turn to China
---