Inside Syrian regime, hard-liners gain upper hand
As both the Syrian regime and the opposition harden their positions, a nationwide strike aimed at bringing down President Assad through peaceful means looks unlikely to succeed.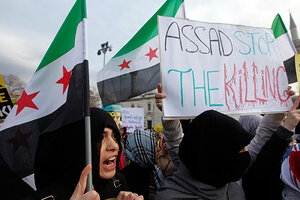 Osman Orsal/REuters
Heavy clashes across Syria in recent days provide further evidence that the nine-month struggle to topple Syria's Assad regime is evolving into an armed conflict.
The intensified fighting coincides with yesterday's launch of a nationwide general strike intended to apply further pressure on the Syrian authorities. But its effectiveness in hastening President Bashar al-Assad's downfall and averting a further descent into bloodshed looks doubtful.
Despite growing international and regional pressure and a worsening security and economic situation, the Assad regime shows no sign of easing its crackdown on opposition activists and armed rebel soldiers. And both sides have hardened their positions to the extent that a negotiated end to the violence effectively has been ruled out, analysts say.
"The opposition is no longer ready to negotiate with murderers," Burhan Ghalioun, the head of the Syrian National Council, the top opposition body, said in remarks published by Germany's Der Spiegel magazine today. He added that the SNC was willing to hold talks with civilian and military authorities "who do not represent the regime but institutions."
Rivalry between Assad and his hard-line brother?
---