The man Israel didn't release from prison: Marwan Barghouti
Palestinians originally hoped that Marwan Barghouti, compared by some to former South African prisoner-turned-president Nelson Mandela, would be included in a prisoner swap finalized today.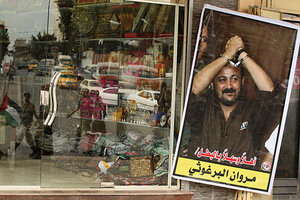 Mohammed Salem/Reuters
There were rumors and Palestinians hopes that the Gilad Shalit prisoner swap this fall would result in the release of Marwan Barghouti, the man who many see as a possible successor to Palestinian leader Mahmoud Abbas.
Under the Shalit deal, more than 1,000 Palestinians were to be released over several months in exchange for the Israeli soldier kidnapped by Hamas in 2006. But as Israel announced the names of the remaining 550 prisoners to be released today, Mr. Barghouti was not among them.
Barghouti is perhaps the most prominent Palestinian still imprisoned by Israel, and he is championed by many Palestinians not only as a preferred successor to Mr. Abbas but also the man who can make peace with Israel.
With a militant background and time behind bars, he has street cred that Abbas lacks, but that also makes him controversial in Israel and abroad. He has, however, professed a commitment to peace in more recent years; some compare him to South Africa's Nelson Mandela, who emerged from 27 years in prison to usher in the country's transition from apartheid to democracy.
"If Israel is really interested in a Palestinian partner for a two-state solution, they will release Marwan Barghouti," says Mahdi Abdel Hadi, director of the Palestinian Academic Society For the Study of International Affairs in Jerusalem.
Barghouti's appeal
---