As US troops exit Iraq, Maliki moves against Sunni rivals
Iraq's Shiite prime minister, Nouri al-Maliki, briefly arrested the Sunni vice president yesterday and has urged a vote of no confidence against the Sunni deputy premier.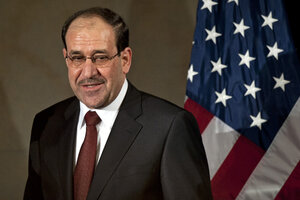 Cliff Owen/AP
Iraq's political crisis deepened yesterday as Prime Minister Nouri al-Maliki ordered the country's vice president off of a plane and had him held temporarily at Baghdad airport, on suspicion that members of his security detail took part in a string of assassinations.
The confrontation between the prime minister, a Shiite Muslim, and Vice President Tariq al Hashimi, a Sunni, took the spotlight off of what could have been a day of Iraqi unity and celebration – as the last American tanks and troops rolled south to Kuwait, ending the nearly nine-year US military presence.
In Baghdad's Green Zone, the center of the US occupation following the 2003 invasion, the tanks, personnel carriers, and hundreds of troops that took up positions this weekend were Iraqi, not American. But their intimidating presence symbolized the sudden political crisis as well as the shift in power.
Mr. Maliki's move against Hashimi followed the arrest of at least six members of the vice president's security detail in the past two weeks, Interior Ministry officials said. On Friday, Maliki told members of his ruling multiparty alliance that several of the guards had confessed involvement in the assassinations of Shiite politicians over the past two years, according to a participant at the session. Hashimi's security detail is said to number 300.
---