With deadline looming to close MEK's Camp Ashraf in Iraq, what next?
Camp Ashraf, home to militants opposed to the Iran regime who are also unpopular in Iraq, faces year-end closure. Some fear there could be violence and even suicide, but there are signs of a negotiated settlement.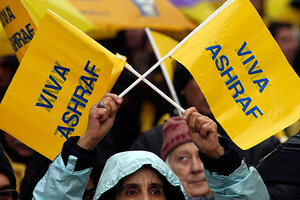 Yves Logghe/AP
The fate of some 3,200 anti-Iran militants on the US terrorism list hang in the balance, as an end-of-year deadline looms to close Camp Ashraf in Iraq.
American officials have expressed fears that the leadership of the Mojahedin-e Khalq (MEK/MKO) – which US government reports frequently describe as a cult – may order the massacre of their followers, rather than permit the peaceful disbandment of Camp Ashraf, which would deprive the MEK of one of its most powerful assets.
But Maryam Rajavi, the MEK's self-styled "president elect" of Iran, said today the group accepted "in principle" a UN plan – if there were "minimum" US and Western guarantees of safety – to relocate members to a former US base near Baghdad airport for individual processing and possible resettlement as refugees.
The Shiite-led government of Nouri al-Maliki, which has close ties to Iran, has made clear its determination to close the base set up by Saddam Hussein in the 1980s.
In Iran, the MEK are widely despised as traitors for fighting alongside Iraqi forces in the Iran-Iraq War. In Iraq, few also have sympathy for the group, which Mr. Hussein deployed to help crush a popular Kurdish uprising in 1991.
"How shall we accept the killers of our sons?" asked Adnan al-Shamani, a Shiite lawmaker speaking at a recent government-sponsored conference in Baghdad to protest the MEK presence.
---