As Christmas arrives, crisis for Mideast Christians
While Christians in Iraq have long faced the threat of growing Islamism and violence, now Christians in Egypt – and Syria – are facing new pressures as a year of dramatic change wraps up.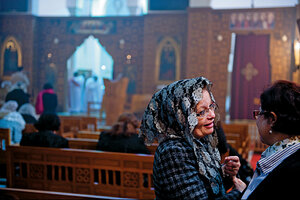 Ann Hermes/Staff/File
This fall, a group of Iraqi-American Christians ramped up pressure on the Obama administration, warning that their ancient community in Iraq – already hobbled by eight years of war – could be pushed over the brink entirely after US forces withdraw by year's end.
Recently, Vice President Joe Biden responded.
"Basically, we got a letter back saying: Iraq is undergoing a great democratic process and we should take advantage of that," says Robert Dekeileta, a lawyer who volunteers with the Chaldean Assyrian Syriac Council of America. "It doesn't take into account that democracy for us is a little bit frightening because a lot of forces in society are opposed to non-Islamic entities like ours."
This year of dramatic political change in the Arab world – with dictators falling in Tunisia, Egypt, and Libya; a violent uprising threatening Bashar al-Assad's grip on Syria; and popular agitation for democracy in Yemen and elsewhere – has opened up the real possibility that entrenched autocracy and despotism will be replaced by governments more responsive to their people.
But the experience of political change for Iraq's Christians is a reminder that democracy is one thing, but protecting against the tyranny of the majority is something else again.
---