Why Iran's currency dropped to worst low in two decades
The value of Iran's currency, the rial, to the dollar fell nearly 30 percent after President Obama approved new Iran sanctions on Saturday.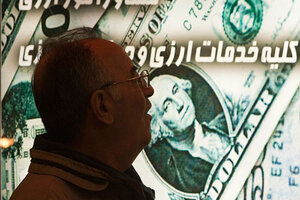 Morteza Nikoubazl/Reuters
Iran's currency, the rial, has plummeted to its lowest value against the dollar in more than two decades after President Obama signed legislation Saturday targeting Iran's Central Bank.
The rial dropped almost 30 percent in two days, hitting exchange rates as low as 17,800 rials per dollar on Monday as Iranians rushed to sell their local currency holdings in favor of havens such as the euro, the United Arab Emirates dirham, the US dollar, and gold.
Washington's new financial legislation against Tehran will sanction foreign firms that purchase Iranian oil – by far the chief source of Iranian government revenue – and penalize banks engaging in financial transactions with Iran. The legislation won't be enacted for another six months, in order for the White House to prepare for any potential fallout on global oil prices, and the rial strengthened today somewhat to 16,200 rials to the dollar.
But the psychological impact on ordinary Iranians, who see a strong rial as a sign of national strength amid the Islamic Republic's growing international isolation, has been huge.
"Mr. Obama's decision was a spark. There is an air of panic and people are worried," says George Washington University economist Hossein Askari, who is an expert on Iran's macroeconomic policies. "If Iran's Central Bank or entities that deal with the Central Bank are going to be sanctioned, it means Iran's ability to import goods and finance imports will be more costly and pressure its foreign exchange reserves."
---