How Iranian nuclear scientist's assassination will affect Tehran's strategy
In Iran's eyes, the assassination of another Iranian nuclear scientist is proof that the West's carrot-and-stick policy has become solely punitive – giving Tehran little reason to compromise.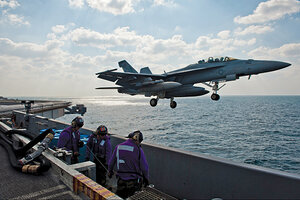 Benjamin Crossley/U.S. Navy//Reuters/File
With Wednesday's assassination of an Iranian nuclear scientist – widely seen as the latest strike in a broader covert war – and impending sanctions targeting Iran's oil industry, tensions between the Islamic Republic and the West have escalated to their highest pitch in years.
The assassins remain unknown, but Iran is vowing to strike back against the US and Israel for the killing of Mostafa Ahmadi Roshan.
Iran's hard-line Kayhan newspaper stated that retaliation is "legal under international law," and that "assassination of Israeli officials and military members are achievable. One Iranian intelligence official was quoted by the hard-line Rajanews warning that "Iran's reactions will extend beyond the borders [of Iran] and beyond the region."
The fevered rhetoric is further proof, analysts say, that what began as a US-led carrot-and-stick policy designed to goad Iran into dropping any aspirations of developing nuclear weapons has turned into a purely punitive approach that leaves Iranian leaders little reason to cooperate.
"They have very few tools in their tool kit right now, and in a sense we have pushed them into a corner with sanctions," says Anoushiravan Ehteshami, an Iran specialist at Durham University in England.
"So what else do [Iranian leaders] have to lose? If they retaliate, they can change the game a bit, and that's what they are doing," says Mr. Ehteshami. "Of course, when you start changing the game a bit, you don't quite control how much you change. You can unleash all kinds of forces."
---