Iran to return drone to Obama – a pink, $4 toy version
An Iranian toymaker is hawking a toy replica of the American RQ-170 Sentinel drone that Iran downed last month. The drone is far less controversial than another US-inspired toy: Barbie.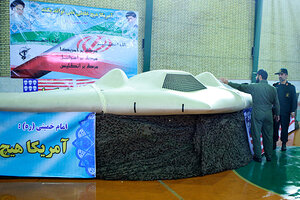 Sepahnews/AP/File
Toy shelves in Tehran will be making room for a new design that will make some Iranians smile and US officials grind their teeth: a scale model of the American stealth drone that Iran brought down in early December.
Iranian officials trumpeted an "intelligence coup" when they brought down the top-secret batwing craft that had been on a CIA spying mission over Iran's nuclear facilities.
An Iranian engineer working to unlock the secrets of the drone told the Monitor at the time how Iranian electronic warfare specialists had "spoofed" the drone's GPS navigation system, causing it to land in Iran.
Now that event has been immortalized in a 1:80 scale model of the RQ-170 Sentinel drone. Though Sentinel models are already on the international market, Iran's come in an array of bright colors and atop a stand engraved with the words of Ayatollah Ruhollah Khomeini – the father of Iran's 1979 Islamic revolution: "We will trample America under our feet."
"What is annoying are the toy shop tactics, when we have such serious issues to confront," says a Tehran resident who asked not to be named. She noted drums-of-war rhetoric coming from the US, Israel, and Iran; the covert war against Iran's nuclear program; and mounting sanctions.
"Our savings have lost 40 percent of their value in a season, and they are making drone toys!" she says. "As a joke I will probably buy one, because it would take the sting out of the reality, as a kind of relief."
A pink drone for President Obama
---