Iraq's Maliki accused of jailing, torturing opponents
Iraqi Prime Minister Nouri al-Maliki was accused by former prime minister and rival Ayad Allawi of using the security services to torture members of opposition groups into giving false confessions.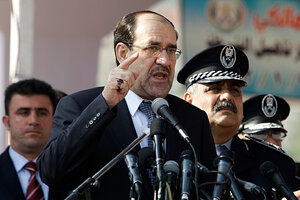 Karim Kadim/AP
Prime Minister Nouri al Maliki's security services have locked up more than 1,000 members of other political parties over the past several months, detaining many of them in secret locations with no access to legal counsel and using "brutal torture" to extract confessions, his chief political rival has charged.
Ayad Allawi, the secular Shiite Muslim leader of the mainly Sunni Muslim Iraqiya bloc in parliament, who served as prime minister of the first Iraqi government after the Americans toppled Saddam Hussein, has laid out his allegations in written submissions to Iraq's supreme judicial council. Allawi, whose bloc is part of Maliki's coalition government, demanded Wednesday that the prime minister grant the detainees legal counsel and due process.
Some of the confessions obtained under duress were intended to implicate Allawi in a supposed plot to foment violent unrest around the country, Allawi charged in a formal complaint to President Jalal Talabani earlier this month.
"Information has reached us that is beyond doubt regarding the brutal torture of our detainees in an attempt to extract false confessions from them, confessions referring to the general secretary himself," Allawi wrote Talabani. "They are being made to confess that he has ordered armed demonstrators onto the streets to carry out violence."
---