Iran angry over EU unity on oil embargo
Iran's currency nosedived today as the EU approved an oil embargo to take effect in July. The rial has lost half its value since October.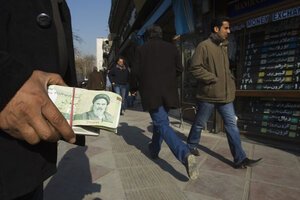 Raheb Homavandi/REUTERS
Iran reacted angrily today to a new European Union ban on oil imports and other sanctions that are the latest measures aimed at forcing Iran to curb its nuclear program.
While Iranian generals and politicians alike have put a brave face on the impact of the long-expected sanctions – with some renewing vows today that Iran would cut off strategic oil shipping channels through the Strait of Hormuz – Iran's currency continued its nosedive against the dollar on expectations of deepening crisis.
"The most telling sign is panic at the gold and foreign exchange markets," says an Iranian analyst in Tehran who closely follows the economy and asked not to be named.
The rial reached an all-time low today at 21,000 rials to the dollar; it has lost half its value in just under three months. Many Iranians are hoarding gold.
A US aircraft carrier group, joined by British and French warships, entered the Persian Gulf through the Strait of Hormuz on Sunday, defying a recent Iranian warning to keep out of the narrow waterway through which one-third of the global seaborne oil supply is shipped.
Iran shocked by EU unity
Iranian officials have been shocked by the display of European unity, considering that Iran accounts for 20 percent of oil imports to Europe. The oil measure will only fully take effect on July 1, to give key buyers – especially Greece and Italy, which are facing debt crises – time to find alternative sources.
---