As Israeli-Palestinian talks sink, fringe ideas gain traction
As time passes and a two-state solution looks less feasible, Israelis and Palestinians are more seriously considering ideas like a binational state.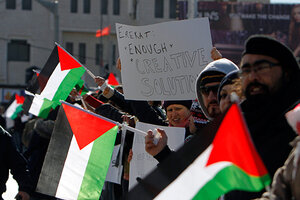 Mohamad Torokman/Reuters
As another round of Israeli-Palestinian peace talks faltered on Wednesday, a growing number of Israelis and Palestinians say that the status quo is rapidly approaching a point at which establishing a Palestinian state alongside Israel is impossible or unrealistic.
"I still believe that two-state solution is the only solution and is possible," says Ron Pundak, an Israeli academic who started the informal peace talks with Palestinians that led to the Oslo Accords. "But I am afraid we will lead ourselves to a situation where the two-state solution is not viable, or people will think it's not viable, which is almost as bad."
Palestinian Authority President Mahmoud Abbas reportedly told Jordan's King Abdullah that a series of Amman meetings between negotiating envoys had run their course and that the Palestinians would seek the advice of the Arab League on the next step in their pursuit of statehood.
But several factors are expected to make it increasingly difficult for Israel to extract itself from the West Bank to create a Palestinian state: the rising number of Jewish settlers, eroding political will to order a painful and expensive withdrawal, and a drop in public support for a compromise.
What will come in place of the two-state solution? Suggestions range from a new Palestinian uprising, to a binational state, to a continuation of the status quo.
---