Religious trash talk goes mainstream in Israeli-Palestinian conflict
Religious fundamentalists are gaining greater influence on both sides of the Israeli-Palestinian conflict, complicating peace efforts.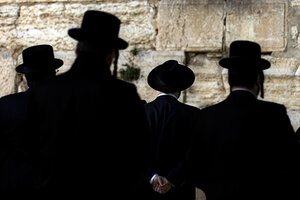 Photo illustration: Sebastian Scheiner/AP
With the Israeli-Palestinian peace process suspended, religious fundamentalists on both sides of the conflict are gaining wider influence. Palestinian and Israeli analysts alike warn that the trend could further complicate prospects for a resolution by turning a nationalist clash over territory into more of an absolutist religious war.
The typically secular Palestinian Authority (PA) has joined the militant Hamas movement in using Islam as a rallying point, while Israeli settler groups, citing Scripture and backed by one of the most right-wing governments in Israeli history, are gaining unprecedented(?) momentum in their drive to take control of Arab East Jerusalem.
''On both sides, religious fundamentalist elements are on the rise politically,'' says Yossi Alpher, former director of the Jaffee Center for Strategic Studies.
Hani Masri, director of the Badail think-tank in Ramallah, agrees: ''The religious factor in the conflict was always there but it has become stronger,'' he says.
The change in the nature of the conflict is due in part to the failure of the peace process begun in 1993 when the two respective leaderships were both secular, according to Ghassan Khatib, director of the PA's media center. Religious and ideological radicalism has grown on both sides of the Palestinian-Israeli divide, as evidenced by Hamas's victory in parliamentary elections in 2006.
''The failure of the secular leaderships ... in achieving the objectives of their respective publics weakened them and allowed a shift in the balance of power ... in favor of those forces and groups and sectors against the peace process that are more radical politically and ideologically,'' says Mr. Khatib.
---