Syria next steps: With diplomacy stalled, escalation expected
Vetoes by Russia and China at the United Nations Security Council leaves few diplomatic options available to stem the violence in Syria.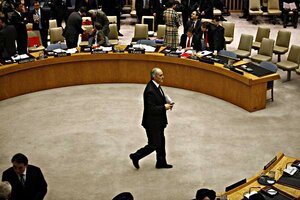 Allison Joyce/Reuters
Diplomatic efforts to resolve the crisis in Syria appear to have reached an impasse following the vetoing by Russia and China of a United Nations Security Council resolution.
The vote at the UN Security Council on Saturday came amid the worst surge of violence in Syria since the uprising against the regime of Syrian President Bashar al-Assad began in mid-March last year, with over 300 people reported dead since Friday in the flashpoint city of Homs.
With diplomacy running out of steam, analysts expect the violence in Syria to intensify as an emboldened Mr. Assad redoubles efforts to stamp out the revolt while the opposition steps up acts of civil disobedience and rebel forces continue the shift to armed resistance.
"The situation in Syria is going to escalate with greater bloodshed in the streets as a consequences of the vetoes which ended up giving the regime greater support," says Imad Salamey, associate professor of politics at the Lebanese American University in Beirut.
He added that there would be an increase of diplomatic pressure on Russia and China to reverse its backing for Syria which would likely require even greater concessions from the US, Europe, and the Arab world.
Watered-down resolution
---