As Syria's Assad pummels Homs, West reluctantly weighs military option
After diplomatic efforts at the UN failed Saturday, there is a growing consensus that supporting the rebel Free Syrian Army may be the only way to break the stalemate between Assad and his opponents.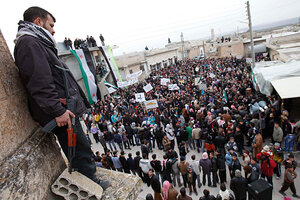 AP
Updated at 3:47 p.m. Eastern time.
Syria's regime today kept up its assault on the key opposition stronghold of Homs, where local groups say hundreds have been killed since shelling began Feb. 3. With Syria's violence escalating and diplomatic efforts deadlocked at the United Nations, international attention is turning toward a possible military solution to hasten the downfall of President Bashar al-Assad.
A direct Western-led military intervention is being discounted for now. But diplomats and analysts say Western and Arab officials are mulling an option of military support for the rebel Free Syrian Army in the hope that a campaign of attrition will wear down the regular Syrian forces and eventually undermine the Assad regime.
The notion is already winning public support in Washington. Sen. Joe Lieberman (I) of Connecticut has said the FSA deserves a "range of support" including weapons. And Republican presidential candidate Newt Gingrich also has recommended "supplying weapons" and providing the necessary backing to the Syrian opposition to help them topple the Assad regime. It is rumored, but not proven, that Qatar – the tiny Gulf state that armed Libyan rebels last year – may already be supplying funds and weapons to the FSA.
---