Why a Saudi blogger faces a possible death sentence for three tweets
Hamza Kashgari's tweets on the prophet Muhammad's birthday have resulted in charges of blasphemy, apostasy, and atheism – and Saudi Arabia appears to be making an example of his actions.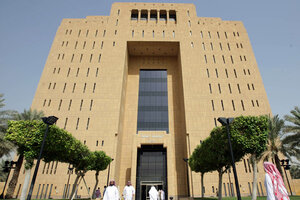 Fahad Shadeed/Reuters/File
Abu Dhabi, United Arab Emirates
As dawn rose over Saudi Arabia on Feb. 4, the Muslim holiday marking the prophet Muhammad's birthday, a 23-year-old business administration graduate named Hamza Kashgari posted three tweets in which he imagined himself speaking directly with the founder of Islam.
"On your birthday, I will say that I have loved the rebel in you, that you've always been a source of inspiration to me, and that I do not like the halos of
divinity around you," read his first tweet, translated here from the original Arabic. "I shall not pray for you."
One of Mr. Kashgari's friends noticed the tweets when he woke up. As he rushed off to work, he said to himself, "I'm afraid for him," he recalls.
By the time the friend ended his shift, he switched on his phone to find thousands of Twitter users calling for Kashgari's execution. Furious at what they saw as insulting the prophet Mohammad, critics also created a Facebook page called: "The Saudi people want the execution of Hamza Kashgari." The next day, a famous Islamic activist, Sheikh Nasir al-Omar, used his daily YouTube lesson – watched by thousands online – to call Kashgari a blasphemer.
Kashgari's friends sent him a short message: Run.
He fled, but only got as far as Malaysia before being deported back home to face charges of blasphemy, apostasy, and atheism – charges that carry a death sentence in Saudi jurisprudence. But Kashgari's trials are not just about three phrases of 140 characters or less. They stem from broader tensions in the kingdom of Saudi Arabia, where the monarchy has in recent years pushed back on the more conservative religious establishment but is now – in the wake of Arab revolts around the region – anxious to shore up support.
---