The cool new Palestinians: geeks
The West Bank and Gaza Strip is home to hundreds of tech companies, creating everything from websites to smart phone apps.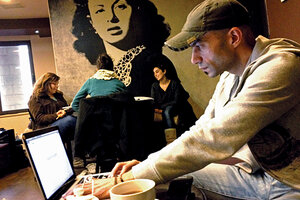 Jackie Spinner
In the hip Ramallah coffee shop ZAMN, Yousef Ghandour laments the slow Wi-Fi as he launches the beta version of one of his many start-ups, a social networking site that allows users to travel through time to find connections.
Mr. Ghandour, who never wastes a moment, shares the e-books he is currently reading on his iPhone (among them, "Good to Great: Why Some Companies Make the Leap ... and Others Don't"), shows off his blog, and lingers for a moment on his latest vision for a social networking site for Muslims called AnaBasili, or "I'm praying."
"People are really passionate about entrepreneurship and putting Palestine on the map using technology," says Ghandour, a software engineer who is helping to create – and brand – an emerging community of technology entrepreneurs in the Palestinian territories. They call themselves Palestinian geeks, or peeks.
Until now, the primary Palestinian contribution to technology has been outsourcing programmers and engineers to firms in the United States and Israel, including Google and Cisco Systems.
But these new entrepreneurs want to do more. They want to create companies based on their own ideas and hire people to implement them. Already their ventures range from smart phone apps to Web design.
---