The risks of telling the Syria story
With nine journalists among the roughly 8,000 dead in Syria's uprising, Monitor reporter Scott Peterson explores the soul-searching inside the small community of war correspondents.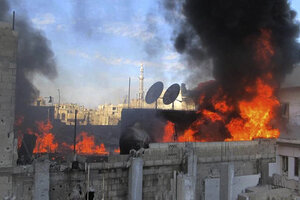 Local Coordination Committees in Syria/AP
Foreign journalists are mourning their losses and weighing the risks of reporting in Syria, where 7,000 to 8,000 Syrians have already died in the yearlong uprising against the rule of Bashar al-Assad.
Events suggest worse brutalities to come: In the besieged city of Homs, Syrian forces today continued their bombardment for a 20th straight day on the rebel-held district of Baba Amr. One activist there claimed that 100 rockets had landed by midday today, and that 25 Army tanks and 35 armored vehicle reinforcements were rolling toward the city, according to the Guardian newspaper.
Added to the casualties are two more Western journalists, whose deaths yesterday highlighted the horrors of Homs in a way they never intended. Renowned American-born war correspondent Marie Colvin of The Sunday Times of London, and World Press Photo-winning French photographer Remi Ochlik, were killed, and several other foreign and Syrian journalists wounded, when their media safe house in Homs took a direct hit.
The deaths landed like another bludgeon on the veteran foreign correspondents and photographers already gathered in Beirut to pay final respects on Tuesday to the gifted, prizewinning New York Times correspondent Anthony Shadid, who died days earlier from an asthma attack while leaving northern Syria after a week of reporting on the rebel side. The number of journalists, Syrian and foreign alike, who died during the uprising, has now reached nine.
Even as the Assad regime was strangling Homs, we journalists contemplated how to continue reporting on Syria without further loss of life.
---