Americans on trial: a convenient distraction for Egypt's rulers?
The trial of 16 Americans and 27 other democracy workers opened today in Egypt in a case that has riveted the Egyptian public and deflected their frustrations onto foreigners.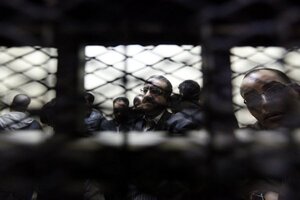 Mohamed Abd El Ghany/Reuters
In a case that has become an international drama, the trial of 16 Americans and 27 other democracy workers opened today in a rowdy courtroom in Egypt.
The workers are charged with operating nongovernmental organizations without a license and receiving foreign funding illegally. US lawmakers call the case a politically motivated crackdown on rights and democracy groups in Egypt and have threatened to cut off US aid to Egypt – about $1.5 billion annually – if it continues.
But to much of the Egyptian public, it is a sensational case of foreign governments using these organizations to destabilize and control Egypt. State media has whipped up such nationalist sentiments, distracting some Egyptians from the slow pace of the regime's democratic reforms and directing anger outward.
"These foreign agents are working to destroy Egypt," says mechanic and taxi driver Abdel Rahman. "They are the cause of all the negative events of the last year – America is using its money to weaken Egypt. If the court does not convict them, we Egyptians will find them and kill them."
Though 16 Americans are charged, only seven are in Egypt and none of them appeared in court today. All seven are banned from leaving Egypt, and some of them have taken refuge in the US embassy.
The 13 Egyptians who showed up to the chaotic hearing were held in a cage during the proceedings, as is customary in Egypt. All denied the charges against them, and were released without bail until the next hearing in April. Also absent from the proceedings were the Germans, Jordanians, Serbs, and Palestinians who are also charged.
Seeking 'espionage' sentences
Lawyers who volunteered against the civil society workers demanded they be sentenced to jail for "espionage," saying they had worked with the CIA, and demanded the accused pay punitive damages for the harm they had supposedly caused Egypt.
---