Oscar winner 'A Separation': Iranians celebrate historic award
Oscar winner and director Asghar Farhadi said 'A Separation' depicted Iran 'through her glorious culture, a rich and ancient culture that has been hidden under the heavy dust of politics.'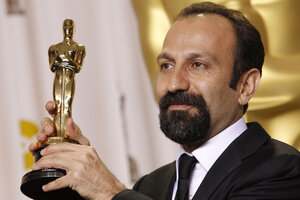 Joel Ryan/AP
The first-ever Oscar victory for an Iranian film is being hailed by many Iranians, both inside and outside the country, as a humanizing antidote to pervasive talk of war over Iran's nuclear program.
A Separation grapples with universal themes, from troubled relationships and their destructive impact on ordinary families to class divisions. Taking place under the shadow of an unbending and grinding Islamic regime, however, it also uses a failing marriage as a metaphor for Iranians who desire to leave their country for a better life.
Elation erupted across Iran at the Oscar announcement, as Iranians stayed up into the early hours to watch the ceremony on illegal satellite dishes. State television did not air the event.
"At this time, many Iranians all over the world are watching us and I imagine them to be very happy," writer-director Asghar Farhadi said while accepting the golden statue.
"At the time when talk of war, intimidation, and aggression is exchanged between politicians, the name of their country, Iran, is spoken here through her glorious culture, a rich and ancient culture that has been hidden under the heavy dust of politics," Mr. Farhadi said.
"I proudly offer this award to the people of my country, the people who respect all cultures and civilizations and despise hostility and resentment," he added.
Backdrop of war talk
The appeal to Iran's rich cultural history and civilized tradition could not be in starker contrast to the overbearing war of words (and covert war that includes assassinations of Iranian nuclear scientists) being waged between politicians and pundits of Israel, the US, and Iran.
---