Israel's calculus on Iran: Shaped by leaders' youth in daring commando unit?
Prime Minister Netanyahu and his Defense minister served as brothers in arms in Sayeret Matkal, a sort of Ivy League for future Israeli leaders. Now they face a grave decision on Iran.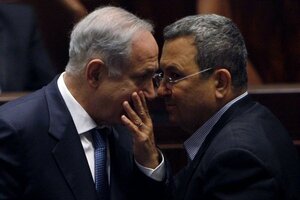 Ronen Zvulun/Reuters/File
Prime Minister Benjamin Netanyahu and Defense Minister Ehud Barak are two rivals turned partners who face a grave decision on whether or not to attack Iran against the counsel of Israel's key ally, the United States.
In the run up to Monday's White House summit between President Obama and Mr. Netanyahu, many in Israel and the US have said that striking Iran's nuclear targets would stretch the abilities of the vaunted Israel Defense Forces (IDF). But Netanyahu and Mr. Barak, once brothers-in-arms in one of the IDF's most daring commando outfits, may beg to differ. Many observers say that the leaders' time in the unit, known for its culture of creativity, stealth, and boldness, offers a window on how the Israeli prime minister may think on whether to strike Iran – a risky move that would likely put Israel under attack diplomatically and militarily.
"The challenges [in the unit] are so tough and demands so big, that it elevates your self-confidence," says Danny Yatom, who served under Barak in the Sayeret Matkal unit and later became the head of Israel's Mossad intelligence agency. "It teaches us we can do much more than we thought we can do."
---