AIPAC concerns aside, Israelis say Iran is a waning hegemon
Israeli leaders see Iran in danger of losing its dominance in the region as Syria, the linchpin of Tehran's regional alliance, falters. But a nuclear weapon could help it regain lost ground.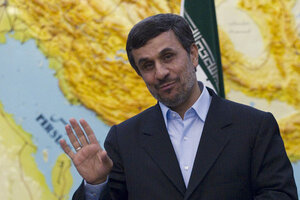 Caren Firouz/REUTERS
As upheaval spread throughout the Arab world last year, Israeli leaders warned that the instability might be exploited by Iran to expand its influence throughout the Middle East.
But as President Obama and Israeli Prime Minister Benjamin Netanyahu meet in Washington today to discuss the Iran nuclear threat, many in Israel argue that Tehran may end up one of the biggest losers of the upheaval.
Embattled Syrian President Bashar al-Assad, a key Iranian ally who faces a year-long uprising against his regime, has long been the linchpin of a regional alliance led by Tehran and including Hezbollah in Lebanon and Hamas in Gaza. Both groups, with armed militants on Israel's borders, are seen as proxies that Iran could use to retaliate against an Israeli strike on its nuclear program.
If the uprising succeeds in toppling Mr. Assad, the so-called "axis of resistance" would suffer a blow because the removal of a friendly regime in Damascus could end the weapons-supply link from Iran to Lebanon.
---