Majority of Israelis oppose a unilateral strike on Iran nuclear program
Two polls that came out this week show that as many as two-thirds of Israelis oppose a strike on Iran nuclear sites even without US support – a step the prime minister has threatened.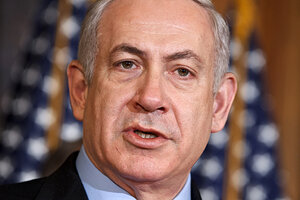 J. Scott Applewhite/AP
Israeli Prime Minister Benjamin Netanyahu spent much of his visit to the US this week defending the Jewish state's right to launch a preemptive strike on Iran's nuclear program. Such a move is necessary to block the emergence of what he says is an existential threat.
But it seems that a majority of Israelis oppose a strike without US backing, according to two public opinion surveys released after the conclusion of the White House summit with President Obama on March 5.
The polls highlight an apparent gap between official rhetoric and popular sentiment that may give Mr. Netanyahu pause: Even though Israel has an established history of unilateral attacks, it seems that there is considerable public anxiety about pursuing the same course of action in the case of Iran.
---