Gaza militant assassinated by Israel, sparking fears of wider violence
Israeli confirmed its targeted assassination of Zuhair al-Qaissi was the chief of the Popular Resistance Committees, a pro-Hamas militant group that has threatened retaliation.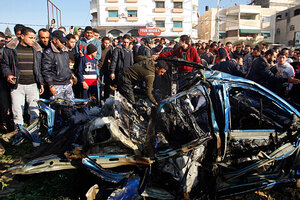 Hatem Moussa/AP
An Israeli air strike today killed the chief of the Popular Resistance Committees (PRC), a pro-Hamas militant group that today declared it will no longer honor the tenuous cease-fire with Israel.
PRC Secretary-General Zuhair al-Qaissi and his aide, Mohammed Hannani were instantly killed when their car was targeted by Israeli rockets in Gaza City's densely populated Tal al-Hawa neighborhood. Witnesses said unmanned drones were flying overhead just before the attack.
The targeted assassination of Mr. Qaissi, confirmed by the Israeli army, marks the highest-profile casualty in Gaza in recent months. Observers say it could widen the cycle of violence if Palestinian factions retaliate.
"It seems that Israel is meant to drag Gaza militants into violence again," says Mukhaimar Abu Sada, professor of political science at Gaza's al-Azhar University. "I believe Israeli Prime Minister Benjamin Netanyahu wants to get more domestic support through killing resistance leaders in Gaza."
---