Syria crisis causes Iran-led 'axis of resistance' to fray
The Syria crisis is complicated by the regional cold war that has simmered for years between resistance powers like Iran, Syria, and Hezbollah, and Western allies in the region such as Saudi Arabia.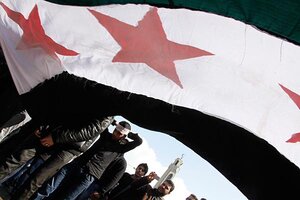 Mohamed Azakir/Reuters
On the ground, Syria's day-to-day revolt may look like any other Arab Spring revolution, with widespread protests against the dictatorial rule of President Bashar al-Assad, and powerful military and security forces trying to crush them.
But analysts say the Syrian crisis is already having a global strategic impact beyond that of the Arab world's other people-power uprisings, which brought down authoritarian rulers in Tunisia, Egypt, Libya, and Yemen.
As revolutionary turmoil in Syria enters its second year today – with more than 8,000 killed already – the crisis is rekindling US-Russia rivalry in the Middle East. It is also jeopardizing the Iran-led "axis of resistance" to Western interests in the region.
In keeping with the regional cold war that has been simmering here for years, Iran and the Shiite Hezbollah militia in Lebanon have fully supported their Syrian ally, while Sunni states friendly to the US, like Saudi Arabia and Qatar, have called for arming anti-Assad rebels.
---