Fierce fighting in Damascus signals rebels remain unbowed
Today's fighting in Damascus and three weekend car bombings suggest a protracted fight between rebels and the Syrian Army, despite recent tactical gains by the regime.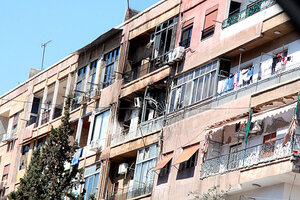 Reuters
Fierce fighting in the Syrian capital of Damascus today as well as three weekend car bombings and the spread of anti-regime demonstrations in the north signal that that the year-old rebellion will persist despite recent tactical gains by the Syrian military.
Early today, heavy clashes were reported to have broken out in the affluent Mezze neighborhood in west Damascus between members of the rebel Free Syrian Army (FSA) and security forces. Syrian TV said four people died, including three "terrorists" and a member of the security forces. Rami Abdel Rahman of the Syrian Observatory for Human Rights said 18 soldiers or security personnel were killed. Another unverified report said as many as 80 people died in the pre-dawn clashes.
The fighting in the Mezze quarter indicates that the FSA remains unbowed despite recent setbacks and ongoing logistical difficulties. That suggests the confrontation between the Assad regime and the opposition is set to grow more violent in the weeks and months ahead.
"There are seven wonders of the world, yes? If Assad stays in power, that would be the eighth wonder of the world," says Hakim, a Syrian opposition activist in hiding in north Lebanon who gives only his nom de guerre. "We have to be patient and wait for the regime to go because there is no going back now."
The twin car bombings in Damascus on Saturday and another in Aleppo on Sunday – which appeared to target buildings containing security offices – killed around 30 people, wounded more than 160, and caused widespread damage.
---