US teacher killing: How religiously open is Yemen?
Al Qaeda-linked militants say they killed Joel Shrum for proselytizing. The country has seen other attacks on Christians, but also has Catholic sisters working openly.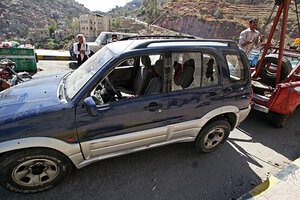 Anees Mahyoub/AP
Al Qaeda-linked militants who claimed responsibility for the death of an American teacher in Yemen yesterday said he was targeted for being "one of the biggest American proselytizers" in the Arab nation.
While Joel Shrum was known by Yemenis to be a devout Christian, his employer – the International Training Development Center – denies the claims of proselytizing, saying he was a "very professional employee who highly respected the Islamic religion."
The controversy highlights the sensitive nature of Christian aid workers in Yemen, an almost entirely Muslim country. While Christians from Catholic sisters to African expatriates have lived and worked for decades here, isolated cases of proselytizing by foreigners have occasionally raised suspicions about the activities of Christian nonprofit organizations and workers.
Some here have come to suspect that church-affiliated groups are fronts for efforts to convert Muslims to Christianity, something that's a major taboo in deeply conservative Yemen, where the maximum penalty for apostasy is death.
Last week, Saudi Arabia's top cleric underscored the lack of religious tolerance in much of the Arabian peninsula, where Yemen is located, by saying that it was "necessary to destroy all the churches of the region."
Shrum previously did mission work in Latin America
---