Egypt's Coptic pope: How he negotiated waves of sectarianism
When Pope Shenouda III became pope in 1971, sectarianism was on the rise. Banished briefly by Sadat, he later worked to promote better ties with the Mubarak regime to help Christians.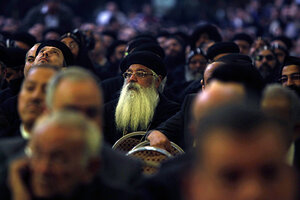 Amr Abdallah Dalsh/Reuters
Tens of thousands of people turned out for the funeral today of Pope Shenouda III, the man Egypt's Coptic Christians saw as not just a leader, but a protector and a father who defended his flock in hard times, from the presidency of Anwar Sadat to the fall of Mubarak. Many Christians are devastated that his death on Saturday came at such a difficult time for them.
"In the circumstances we are in now, we needed him more than ever," says Mariem Seif, who stood amid the throngs outside St. Mark's Cathedral in Cairo waiting to catch a glimpse of the car that would carry the pope's body away. Ms. Seif begins to weep as she ticks off the recent instances of attacks against Christians – a church bombing over a year ago that killed nearly two dozen people; multiple churches burned over the last year; and in October, an Army attack on a Christian protest that left 27 dead and the Christian community traumatized.
"We were so angry," says Seif. "But he was wise and calm, and calmed us down, to protect us."
Shenouda began his tenure as leader of the Coptic Orthodox Church four decades ago at a time of rising sectarianism that made Egyptian Christians feel under threat. By the time his patriarchy ended this weekend, the Christian community was once again feeling vulnerable.
---