US eager to send foreign aid to Yemen, a land battling poverty and Al Qaeda
The West sees foreign aid as a way to help counter extremism and issues like child malnutrition, but Yemenis caution against too much, too soon – and point to Afghanistan.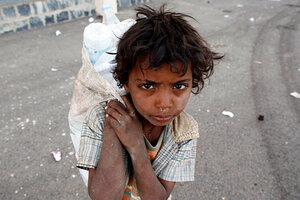 Ahmed Jadallah/Reuters
As the dust settles on a year of popular revolt in Yemen, international actors are looking to shore up the new president as he tackles long-standing humanitarian and security problems – not least of all, one of the world's most worrisome Al Qaeda franchises.
One-third of Yemen's population is going hungry, 500,000 children are reportedly at risk of dying of malnutrition, 45 percent of the population lives on less than $2 a day, and studies have projected that the capital's wells will run dry by 2015 as the arid country taxes its modest water resources.
Meanwhile, the deterioration of security in Yemen has created an opening for Al Qaeda in the Arabian Peninsula (AQAP), which has twice attempted to blow up US-bound planes in the past several years. Among Western nations, foreign assistance is seen as a means of countering such extremism.
"The United States is going to have a very important role in trying to help Yemen undertake the necessary reforms as well to provide the assistance that's going to allow them to move forward economically," says Gerald Feierstein, US ambassador to Yemen, in an interview.
But Yemen, with its weak government institutions and entrenched corruption, has a history of struggling to effectively absorb aid. Providing too much aid too fast can have devastating consequences, as the West's 10-year experience in Afghanistan has demonstrated.
So while international players, from the US to the International Monetary Fund, are eager to send assistance, Yemeni politicians are cautioning against creating too much dependency on outside aid – outlining instead a vision of foreign investment.
---