Syria's opposition faces 'divided we fall' moment
Syria's opposition meets today after being shaken by resignations and splits. A united front could sway skeptical Syrians who don't particularly support Assad but fear the alternative could be worse.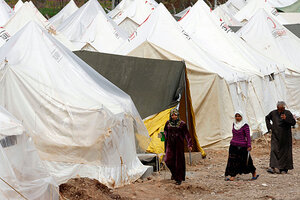 Osman Orsal/Reuters
Syria's bickering opposition factions are gathering in Turkey today in an effort to forge a united front against Syrian President Bashar al-Assad's regime and gain international support ahead of a "Friends of Syria" summit next weekend.
Today's meeting comes as the top opposition body, the Syrian National Council, has been shaken by splits and internal rows that have ceded the initiative to armed groups and revolutionary councils inside Syria.
The fault lines divide opposition figures living abroad from domestic grass-roots activists, and secular liberals from religious cadres, reflecting to some extent Syria's complicated sectarian, ethnic, and cultural mix.
"Overall, the Syrian opposition, because of the sectarian and diverse nature of the country, doesn't tend to congeal as easily as elsewhere where identity is more solidified," says Andrew Tabler, author of a new book on Syria under Mr. Assad's rule.
A united Syrian opposition could not expect the same level of Western commitment to its cause as that enjoyed by the well-funded and -equipped Libyan rebels because of the additional complications of intervening in Syria.
But a united opposition could have an impact at home by encouraging a broad swath of Syrian citizens who do not particularly support the Assad regime but fear the alternative could be worse. By presenting a clear political agenda – including promises of freedom and protection of minorities – a stronger, more cohesive opposition could help shift the internal balance of power away from the regime.
---