As Syria's war rages, Assad bans military-age men from leaving
The Syrian regime issued new travel restrictions for military-aged men on Monday.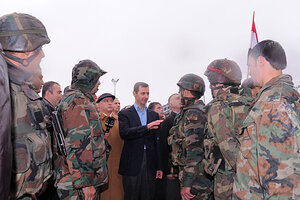 SANA/Reuters
The Syrian government, unable to quell an armed rebellion despite overwhelming firepower, issued new travel restrictions Monday for military-aged males as fighting continued across the country, especially in Homs, Syria's third-largest city.
Under the new restrictions, reported by local Syrian news outlets, all males between 18 and 42 were banned from traveling outside the country, a move that appeared to be aimed at making it easier to draft more men into the military.
Syrian refugees in Jordan last week said they had fled because they feared being drafted, despite having already completed their compulsory military service, and that in recent weeks the Syrian government had made it increasingly hard to leave the country.
The announcement of the travel ban came as it was becoming increasingly clear that the withdrawal more than three weeks ago of Free Syrian Army rebels from the Baba Amr neighborhood of Homs had not stopped fighting in that city.
Opposition activists said Syrian government forces have resumed regular shelling of a number of the city's neighborhoods as it attempts to crush the FSA, a loose network of Syrian army defectors and volunteers who've taken up arms against the government of Syrian President Bashar Assad.
Meanwhile, the Syrian military apparently thwarted a rebel effort to blow up a key bridge between Damascus and the southern city of Daraa, the birthplace of the current anti-Assad revolt. Destruction of the bridge would have made it difficult for the Syrian government to dispatch tanks to Daraa and would have dealt an economic blow to the government by cutting the main trade route to Jordan.
---