Egypt takes second shot at coming up with a fair constitutional convention
Islamists are talking with secularists today after they resigned in protest. To be enduring, critics say, Egypt's constitution must be a document based on consensus.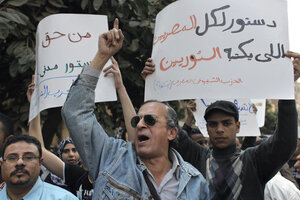 Nasser Nasser/AP
A process that was supposed to be one of the crowning achievements of Egypt's uprising – the writing of a new constitution – began yesterday amid controversy over the heavily Islamist makeup of the assembly chosen to craft the document.
A quarter of the 100-member constituent assembly did not attend the first session, including about 20 mostly liberals and leftist figures who resigned from the body in protest (the reason for the other absences wasn't immediately clear).
They complained that the Muslim Brotherhood's party, along with the ultraconservative Islamist Nour Party, rushed the assembly's election process to push through their own candidates, resulting in an Islamist-dominated body they say does not adequately represent minority groups and political ideologies.
A member of the secular Egyptian Social Democratic Party (ESDP) said today that negotiations are ongoing with the Muslim Brotherhood's Freedom and Justice Party (FJP) and other members of the assembly to replace some of the Islamist committee members with enough liberals and leftists to have a blocking minority.
Emad Gad, who resigned from the assembly's alternates list, said the FJP has made no promises, but is open to the idea. Dr. Gad is hopeful the effort will succeed. He said a total of 28 people have withdrawn from the assembly, including those elected as alternates. Among them was a member from Al Azhar, the highest seat of Sunni learning in Egypt, who announced his resignation today.
Political leaders are also meeting today with the Supreme Council for the Armed Forces (SCAF), the military body currently ruling Egypt, to discuss the crisis.
The constitution will help determine how democratic the new Egypt will be, in part by outlining the balance between the powers of the presidency and Parliament. If the process continues without a compromise by the Brotherhood, it could result in a constitution rejected by many Egyptians, leading to instability and more military intervention in politics in the Arab world's most populous country, a major recipient of US aid.
---