Real triumph of Arab League summit: That it happened at all
The Arab League took little action to address Syria crisis, deferring to UN. But the summit, held in a renovated marble palace with gold-encrusted dates for dessert, still marked a triumph for host Iraq.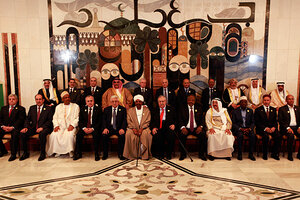 Karim Kadim/AP
Iraq held a historic summit of Arab leaders yesterday showcasing the post-war new Iraq but illustrating old rivalries in a region grappling with revolutionary change.
Iraqi President Jalal Talabani opened the summit bidding the heads of state and other officials a "friendly welcome" to the "city of peace" shortly after a rocket exploded just outside the Green Zone where the leaders were meeting.
But the attacks, lackluster attendance, and an ineffectual statement on Syria did not detract from Iraq's triumph at conducting the summit for the first time since 1990, after it was twice delayed over security worries and anger by the Sunni Muslim Gulf states at Iraq's Shiite-led government.
"My brothers, it was an impossible dream that we meet you in Baghdad less than three years ago," Prime Minister Nouri al-Maliki told leaders gathered in a gleaming restored palace. "Baghdad was a ghost town, its institutions abandoned, mosques and churches in ruins … neighborhoods isolated and hospitals full of the dead and wounded."
A very different city greeted visiting officials this week, who were whisked from the airport through empty streets closed to traffic to a red carpet that led into the marble palace. Turkish waiters served champagne glasses of juice next to towers of sweets. In a symbol of Iraqi aspirations to meet the standards of the oil-rich Gulf, the summit banquet included dates coated in a paper-thin layer of pure gold.
The improvements reflected Iraq's more than $500 million investment to improve roads, buy fleets of armored vehicles, and renovate hotels and the sprawling palace built for the Iraqi monarchy, expanded by Saddam Hussein, and occupied by US authorities. Iraqis outside the Green Zone have seen little of that largesse, however.
---