Israel's Iranian Jews grapple with possible strike on their homeland
While he fears an Iranian bomb, a spice seller from Tehran vows that Iranians love peace. One restaurant cook from Isfahan is baffled by 'how things went so wrong.'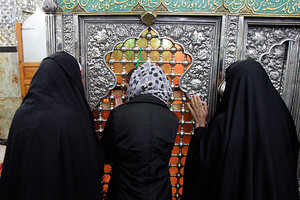 Vahid Salemi/AP
Amid the tense atmosphere between Israel and Iran this Passover season, many of Israel's 250,000 citizens of Iranian descent are finding themselves in a complicated and uncomfortable position.
''I am from Tehran, it is my hometown. I know the Iranians love peace. But now I am afraid we won't have another choice but to bomb the nuclear installations in Iran,'' says Zion Shimoni, who sells spices – including Iranian black dried lemons brought through third countries – in this Persian mini-enclave of Tel Aviv.
But he's also pragmatic.
''I know the Iranians are trying to get rid of Ahmadinejad but I don't think they will manage in time and an atomic bomb in the hands of Ahmadinejad is a dangerous thing,'' he adds.
Indeed, Mr. Shimoni and his fellow Iranian-Israelis have broader perspectives on a possible Israeli war with Iran than many of their countrymen. They have tangible, positive memories of Iran and Iranians and some also count relatives among the 20,000 Jews still living in Iran who, some fear, could face reprisals if there is an Israeli strike. Their views will not alter the current course of the confrontation, but they do provide a glimmer of hope of an eventual rapprochement in relations between the peoples of the two countries.
Molok Shamshiri, an Iranian-Israeli restaurant cook, recalls relations with Muslims back in Iran as being ''so good it is hard to describe.''
---