Iran nuclear talks: Why all sides kept positive
The talks Saturday between Iran and six major powers featured the most positive atmosphere in nearly a decade.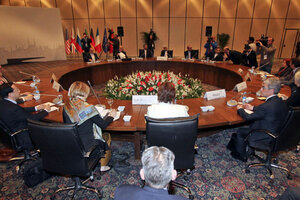 Tolga Adanali/Reuters
In the forlorn panoply of Iran's nuclear negotiations with world powers over the years, the positive atmosphere that prevailed during Saturday talks in Istanbul was the best in nearly a decade.
The purpose of these talks – coming after a 15-month hiatus since the failed meeting in January 2011 – was limited to testing Iran's willingness to seriously engage over a nuclear program that has prompted an international crisis.
Both sides have reason to engage: Iran is feeling the pressure of increasingly Draconian sanctions that are damaging its economy, and wants to have them removed while easing the chances of an Israeli or American military strike.
And the so-called P5+1 (the United States, Russia, China, England, France, and Germany) represented by EU foreign policy chief Catherine Ashton, want to test Iran's own declarations rejecting nuclear weapons as a "sin," want limits on Iran's nuclear work and intrusive inspections, and to avoid a catastrophic war.
The result was 10 hours of intensive talks, in which all sides were determined to ensure a second round to discuss real details, now set for May 23 in Baghdad.
---