Syrian activists to rebels: Give us our revolution back
Many of the activists who began the uprising in Syria more than a year ago feel their peaceful push for change has been hijacked by the rebel Free Syrian Army. They're meeting in Cairo today.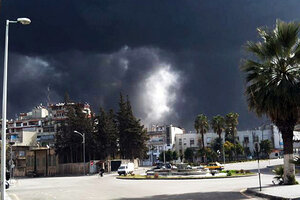 Local Coordination Committees in Syria/AP
Beirut, Lebanon; and Cairo
Syrian activist Mohamed Alloush has fled his native country for Lebanon, but it wasn't President Bashar al-Assad's regime that drove him away. It was the rebels of the Free Syrian Army who ran him out of his hometown of Homs.
"In September last year I had been arrested again by the regime for organizing protests," says Mr. Alloush, speaking on a cafe terrace in Beirut. "After they released me, I ran into a group of men I knew as members of the Free Syrian Army. I walked up to them and screamed: "You guys have stolen our revolution! You are just as bad as the shabiha," the pro-regime militia in Syria.
The rebels kept Alloush for four days, after which they told him not to show his face in Homs again.
Alloush is part of the movement of young revolutionaries who began the protests against the Assad regime in March last year in the wake of similar uprisings in Tunisia and Egypt. They feel sidelined by the violent turn the conflict in Syria has taken since the Free Syrian Army (FSA) was formed last summer. An armed group comprised mainly of former Army soldiers who defected from the regime, it is also reportedly cooperating with Sunni jihadis from abroad and many brigades have adopted an increasingly sectarian tone.
---