Nobel laureate Shirin Ebadi speaks out against Iran sanctions
Shirin Ebadi, the first Iranian to win a Nobel Peace Prize, also spoke with the Monitor about her fight for human rights in Iran and challenged the supreme leader's role.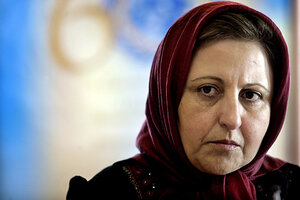 Morteza Nikoubazl/Reuters/File
"If you can't eliminate injustice, at least tell everyone about it."
Nobel Laureate and human rights lawyer Shirin Ebadi begins her book, The Golden Cage: Three Brothers, Three Choices, One Destiny, with this famous quote from Iranian sociologist Ali Shariati.
It is also how Ms. Ebadi has chosen to live her life, even if it means self-imposed exile.
"In Iran, human rights activists are either in prison or they are incommunicado, meaning no one can talk to them and it's basically impossible for them to have any activity. Unfortunately at the present time, a lot of people ... are afraid to talk. This is why I've remained outside Iran, and work for Iran from where I am," says Ebadi, who moved to London after Iran's contested 2009 presidential elections. "If something happens in the world, it has to be told so that others will find out about it. It must be known by the world."
Ebadi, a prominent critic of the Iranian regime, has lived abroad ever since accusations of fraud in the 2009 prompted unprecedented dissent, and the government cracked down hard.
But despite her animosity towards Iran's government, the Iranian human rights lawyer and activist says that the harsh economic sanctions currently imposed against Iran have been misguided. Intended to pressure Tehran into making concessions on its controversial nuclear program, the sanctions are achieving more harm than good and failing to weaken the Iranian regime, according to the Nobel laureate.
"I do not agree with sanctions that hurt people," says Ebadi in a phone interview a day after April 14 talks between Tehran and the international powers known as P5+1 about Iran's nuclear program.
---