No explanation given: Palestinian PM skips Netanyahu meeting
Looking ahead, Palestinian leaders face few appealing options for advancing their agenda, which has been sidelined by Iran and the US elections.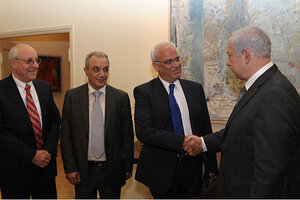 Courtesy of Amos Ben Gershom/GPO/Reuters
Expectations of the first Israeli-Palestinian summit in nearly two years were dashed yesterday when Palestinian Authority Prime Minister Salam Fayyad was a no-show at the Jerusalem residence of Prime Minister Benjamin Netanyahu, the latest sign of dysfunction in public diplomacy between the sides.
What did happen at Mr. Netanyahu's residence is that chief Palestinian negotiator Saeb Erekat delivered a letter from PA President Mahmoud Abbas. An Israeli response is expected in the coming weeks.
Analysts see the correspondence as an effort by Mr. Abbas to tread water in the face of a handful of less attractive alternatives to the current impasse, such as backing a third intifada or dissolving the PA – a move that would remove what many Palestinians see as a façade for Israeli occupation of the West Bank.
"He's groping in the dark… He is trying to give the impression that he's doing something," says Ofer Salzburg. "When he looks at his options, they see something that either seems not to be feasible, or they come at such a high price that they are intolerable."
Palestinian agenda on the world's back burner
---