Political faultlines abound as Egypt returns to Tahrir Square
Protests in Cairo today were ostensibly focused on Egypt's military rulers. But the division between protesters, as the country heads towards presidential elections, was the real tale.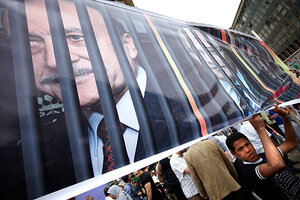 Fredrik Persson/AP
Thousands of protesters from across the political divide took to Tahrir Square today. Ostensibly united for a common goal, the competing camps of protesters revealed deepening divisions amid Egypt's ever-more turbulent transition.
"On the inside, the protest is divided," says Rafik Atif, a member of the April 6 Youth Movement, a secular political group among those that called for the demonstration. "But overall we are here to say: Bring down SCAF." "SCAF" is the Supreme Council of the Armed Forces, the junta that has run Egypt since Hosni Mubarak stepped down in February 2011.
Members of the Muslim Brotherhood, the April 6 Youth Movement, and fans of former Salafi presidential candidate Hazem Salah Abu Ismail, among others, rallied against SCAF and called for an end to military rule. Speeches and chants boomed across a bustling crowd from over a dozen stages, large and small, attempting to revive the revolutionary spirit.
But despite the simple official message of the day, "SCAF Out!", the unity of purpose of 2011 has been replaced by sharp political divisions within the protest movement itself, as Egypt seeks to forge its next phase. A presidential election is scheduled for May 23. The writing of a new Egyptian Constitution is still up in the air, but it's scheduled to be done this year.
What's next? "There is a lot of opacity as to what is going on," says Michael Wahid Hanna of The Century Foundation.
The pre-election period has not been smooth and has frequently been upset by startling developments – first when the Muslim Brotherhood announced they would field a candidate in the presidential race despite claims over the last year that they would not do so. Former intelligence chief Omar Suleiman then submitted his presidential bid, sparking outrage among critics who sought a flattening of Mubarak's regime when they ousted the dictator in last year's 18-day uprising.
---