Iran's cyber prowess: Could it really have cracked drone codes?
Iran claims it hacked into the data banks of a captured CIA stealth drone. US officials dismiss it as 'bluster,' but aviation and cyber experts say it's possible.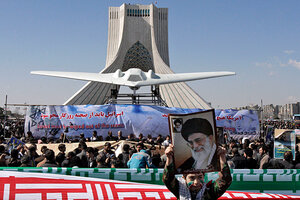 Vahid Salemi/AP/File
Iran claims to have unlocked the data secrets of the CIA stealth drone captured during a spy mission over Iran in December, signaling to Washington that the data was not destroyed and that Iran can crack the encryption codes.
The bat-wing RQ-170 Sentinel drone "had many different codes and passwords and other obstacles but by the help of God it became possible," the aerospace chief of Iran's Revolutionary Guard, Gen. Amir Ali Hajizadeh, told state TV on April 22.
"All of this has been decoded by us and we have unlimited intelligence right now regarding this plane and its activities," he said, giving specific examples, including the use of the drone to spy on Osama bin Laden's hideout two weeks before the US raid that killed him.
Iran has in the past exaggerated its technical and military capabilities. But experts say that there is also a history of the US underestimating Iran's electronic warfare and cyber expertise.
"The problem with Iran is they cry wolf a lot, and we never know what to believe, and people get desensitized to real information," says Tyler Rogoway, who publishes the AviationIntel.com website from Portland, Ore.
---