Rare success story for Egypt's revolution: ending military trials
After the revolution, some 12,000 Egyptians faced military trials, which were as short as five minutes and denied them basic rights. But a grass-roots group intervened, with surprising success.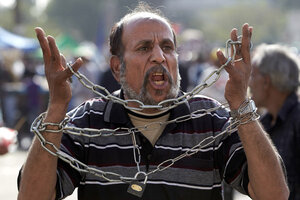 Fredrik Persson/AP
It was late February in 2011, and former President Hosni Mubarak had stepped down just two weeks before. But Egyptians were still protesting, demanding that the Mubarak-appointed cabinet also step down. After a peaceful protest Feb. 26, Army soldiers violently dispersed the demonstrators, beating them and firing into the air.
One of the unlucky ones was Amr el-Beheiry. Witnesses say a group of soldiers surrounded and beat him viciously before he was arrested. Days later, in a five-minute military tribunal, he was convicted of assaulting a public official and breaking curfew, and sentenced to five years in prison.
Mr. Beheiry's case was the first glimpse into what has turned out to be one of the military's most extensive abuses of power during its post-Mubarak rule of Egypt. Since January 2011, the military has tried more than 12,000 Egyptian civilians like Beheiry in military tribunals that deny basic rights of due process.
But what happened after Beheiry's arrest and trial is one of the few success stories amid the setbacks and disappointments that have marked the year since Egypt's uprising. Spurred and angered by what they found was quietly going on in military prisons and prosecution centers, a small group came together to fight it. They faced a battle on two fronts – not only against the Army, but also to convince their fellow Egyptians that military tribunals were actually taking place, and that their victims deserved better.
A year after "No Military Trials for Civilians" was launched, the group has succeeded in raising awareness about the issue and bringing pressure to bear on the military, to the extent that Egypt's military rulers have promised to end or limit the practice. Though military trials for civilians are still taking place, their numbers are far lower than a year ago. And this month Egypt's new parliament moved to limit, although not end, the practice.
---