Is the Palestinian Authority really a 'fig leaf' for Israeli occupation?
That's the charge of Yossi Beilin, Israeli architect of the Oslo accords. In an interview with the Monitor, he defends his recent call for the PA to be dissolved – 19 years after he helped set it up.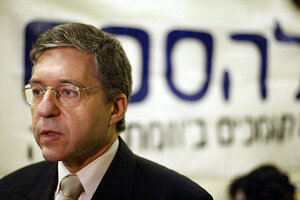 Oded Balilty/AP/File
Seated at her desk beneath pictures of two smiling leaders, Palestinian Authority President Mahmoud Abbas and the late founding father Yasser Arafat, principal Shadia Shaheen asserts that her high school plays a part in the building of a future Palestinian state.
''To build a state, you must start with the person,'' she says during a break at the al-Bireh Secondary School for Girls.'' We teach the pupils how to be sound citizens, how to serve their country, how to be a democratic person, how to express their opinions, and the importance of not being violent.'' she says.
The school, under the auspices of the Palestinian Authority ministry of education, is part of a sprawling but weak government set up in keeping with the 1993 Oslo Accords. Under the self-rule agreement with Israel, the PA was established to include an executive branch, legislature, and an array of security agencies and ministries – including, at present, health, social affairs, finance, justice, agriculture, transport, and tourism.
Launched with great fanfare, the fledgling institutions of statehood face mounting questions about their utility 19 years later, with a Palestinian state nowhere in sight and peace negotiations in a deep freeze. Many support the PA as an important exercise in self-government for Palestinians. But even some of its strongest erstwhile supporters have joined the chorus of those who criticize it as a façade of self-rule behind which Israeli Prime Minister Benjamin Netanyahu can continue to expand Israel's hold on the West Bank while avoiding international opprobrium and the full costs of Israeli occupation.
---